The latest social media features – October 2018 update
We are focusing today on the latest updates for each social media platforms.
This month's news is on Facebook, Instagram, LinkedIn and Snapchat.
FACEBOOK

End of automatic synchronization of tweets sharing
It was time: the social network no longer allows tweets on our account to be automatically shared on Facebook.
This is a good measure because it will force content producers to adapt to the good uses of the social network or to diversify their content strategy.
Deploy a feature to see how much time is spent on the app
It will soon be possible, if you have not already, to be able to know the time spent on Facebook, as we see an example below: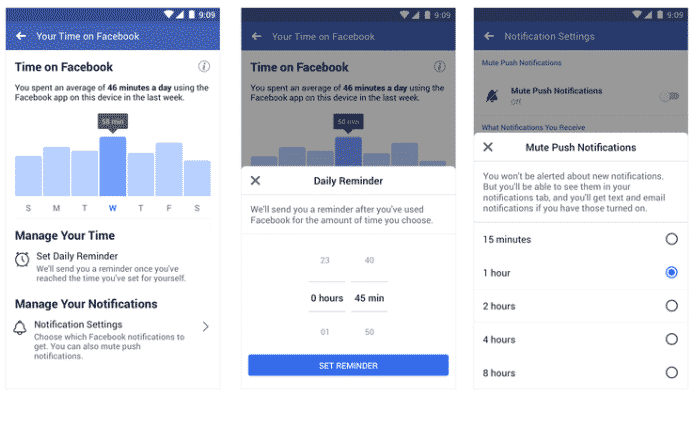 New features for video advertising metrics
The social network has announced the arrival of a new data called "Video Readings" to differentiate between these and impressions.
Indeed, multiple reasons can explain that the advertisement appears on the screen of the Internet users, but that the video does not launch (bad connection, auto-play disabled, etc …).
On the other hand, for metrics "3 seconds & 10 seconds video views", only the non-repeated seconds will be counted.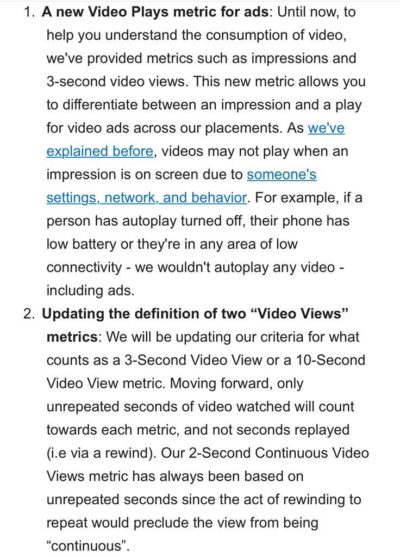 Test a "Share in private message" button instead of "Share" on publications
This would be a real thunderclap if it were applied because the virality of publications would be extremely impacted negatively.

International deployment of Facebook Watch
Facebook now allows users to access its Watch section, a direct competitor of Youtube.
Indeed, it is possible to search videos by keywords and subscribe to content channels.
To access it, click on the "hamburger" menu at the bottom right of your smartphone screen and select "Watch":
Possibility to add links in the Stories for personal reasons
Is this a sign for a possible arrival of the links in the Stories of pages "Enterprise"?
INSTAGRAM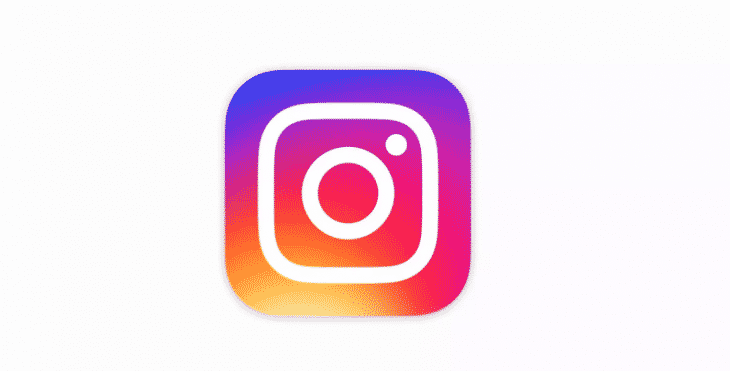 Deploy a feature to see how much time is spent on the app
In the same spirit as on Facebook, it will soon be possible for all to know more about his connection habits.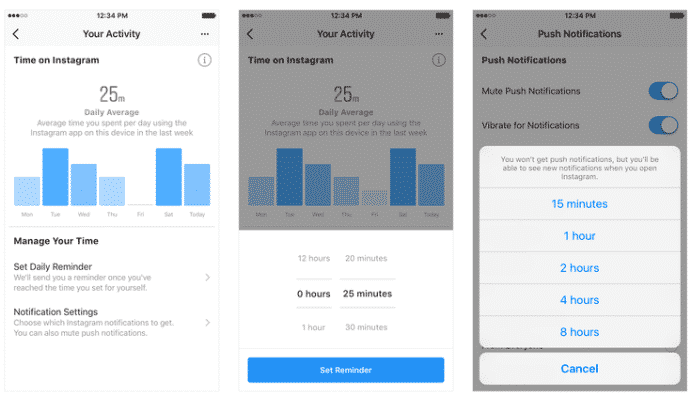 If you are an influencer on Instagram, it will now be easier for you to request a verified account badge.
"The verified blue badge is an important way to know that the account you are interacting with is the authentic presence of a public figure, celebrity, brand, or global entity. Today, we allow a new method for accounts that reach a wide audience and meet our criteria for requesting verification via a form within the Instagram application, " Krieger announces.
To obtain the badge, an Instagram account must follow the conditions of use of the social network. To access this new form, users just have to go to the settings of the Instagram app, then "ask for verification". Of course, all accounts that apply for this badge will not get it. After sending the request, Instagram will notify the user if the request has been accepted or declined
DOWNLOAD OUR FREE EBOOK TO GO FURTHER WITH MICRO-INFLUENCERS
"According to a study by Marketly (2016), the most important element sought by a brand in an influencer is its ability to engage and not the number of subscribers."
LINKEDIN
Update of the advertising platform

The biggest new features in the Ad Manager are optimized loading time, the ability to customize campaign results columns, and increased ease of managing multiple accounts.

Ability to add subtitles on native videos
To do this, simply click on the small pencil after loading your native video, then send a .SRT file including your captions.
SNAPCHAT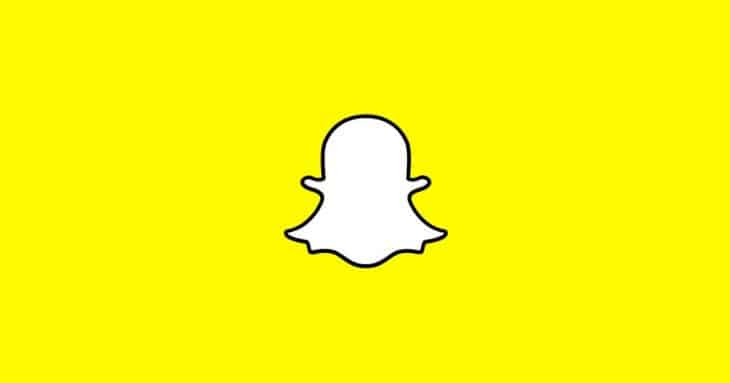 Deployment of lenses responding to the voice
The application allows its users to apply effects of personalization of their contents by voice, as we can see in the video below:

Social Media is at the core of what we do here at Spitche, so that is why we want to provide you the latest update of each social network.
If you need assistance creating your campaign, we are here to guide you!
Come and sign up for one free brand ambassador campaign a month and see how Spitche can boost your engagement and bottom line.